Public Speaking
Entering Grades 6 – 7 – $200
June 5 – June 30, 2023 | Tuesdays and Thursdays | 10:00 a.m. – 11:30 a.m.
Location: Horizon Academy | 4901 Reinhardt Drive, Roeland Park, Kansas
Enrollment Capacity: Maximum of Eight
Starting in middle school, students are often expected to present in class with no presentational training. In Horizon Academy's summer public speaking course, students will be introduced to, and have the chance to practice, speaking in front of their peers. While there is no end-all cure for stage fright and other anxiety-based complications around public speaking, there are ways to treat the physical symptoms of stage fright and regain control of a presentation. Focusing on movement, breath control, and tension, students will learn to address their public speaking fear. They will have the opportunity to explore rhetoric, performance, and presentational speaking in a judgment-free environment, with positive feedback from peers.
In the last session, students will be tasked with giving one final speech of their design.
By the end of the course students will be able to:
Identify the physical symptoms of stage-fright
Sooth uncontrolled breathing and shaking
Support their speech with breath-control
Present physically as well as verbally
Outline the key structures of a good speech
Write a speech based on their interests
Identify successful public speaking traits in their peers
Parents will be invited to watch students' final presentations on the last class day of the course.
Information about Mx. Garibaldi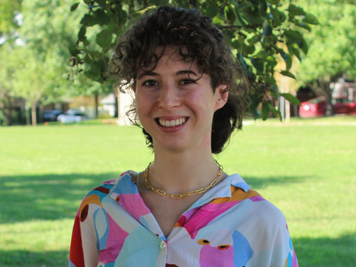 Stella Garibaldi is an all around arts virtuoso who teaches Music, Drama, Art, and Makerspace and heads the Minecraft Club after school. They have performed for the Improv troupe at the Coterie Theater, trained in dance, and have appeared in local theater productions, film, and television.
---