'Rizon Readers Kindergarten Readiness Program
Entering Kindergarten, $1,000
June 5 – June 29, 2023 | Mondays – Thursdays | 8:15 a.m. – 11:45 a.m.
Location: Horizon Academy | 4901 Reinhardt Drive, Roeland Park, Kansas
Enrollment Capacity: Maximum of 8 rising Kindergarten Students
'Rizon Readers Kindergarten Readiness Program is a pilot program at a reduced cost that aims to prepare rising Kindergarten students at risk for dyslexia for success in literacy and numeracy. Through a play-based, multisensory Orton-Gillingham (O-G) Approach, students will practice language skills including phonological awareness, emergent writing, alphabet awareness, and fundamental numeracy skills. 
The program has been created by experts in Speech & Language Pathology, the Orton-Gillingham Approach (dyslexia literacy intervention), and Multisensory Math. The program will be led by an early childhood O-G certified teacher.
Upon completion of the program, parents will be offered a parent-teacher conference to discuss student growth as well as teacher recommendations and accommodations for the coming school years.
Admission Criteria
In order to be admitted into the program, students must…
Be available for the entirety of the June program
Be going into kindergarten in Fall 2023
Attend a one hour in-person screening to determine placement eligibility
Meet at least 3 of the 6 criteria indicated by parents and formal pre-testing

Family history of dyslexia
Limited letter/number identification
Measurable deficits when compared to age-matched peers in phonological awareness skills including nonword repetition, word/phoneme segmentation, word/phoneme blending, digit repetition
Measurable deficits when compared to age-matched peers in rapid automatic naming of colors, objects, letters, numbers
Limited print awareness skills
Observed difficulty producing speech sounds
Parents interested in the program will fill out a screener via the apply button below. Eligible students will receive in-depth pre-testing as well as post-testing to evaluate their progress.
Below is a flow chart detailing the screening process.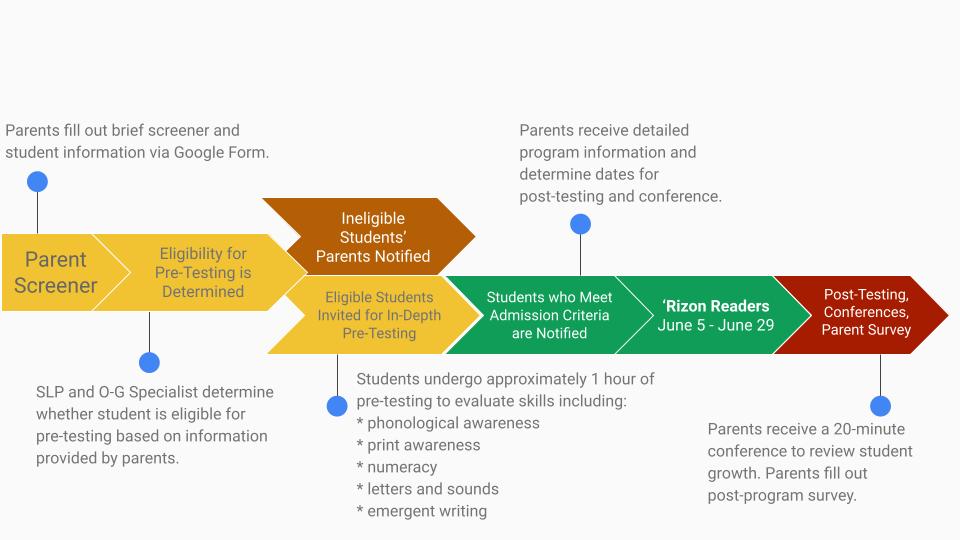 ---