The Giving Tree
Dec 17, 2020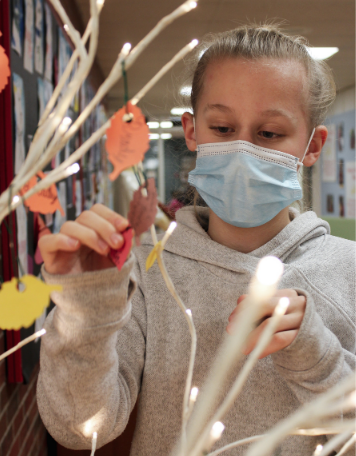 The Giving Tree
Horizon Academy students are giving back to the Kansas City community.
This year, Horizon Academy has implemented a new incentive system called Kickboard. Students earn Kickboard points throughout the week. If students meet their points goal, they can earn rewards, such as an extra snack, a pajama party for their classroom, or even lunch with a teacher.
Starting this Fall, students were given a new option, to use their points to give to a local charity. Horizon Academy students nominated Unleashed Pet Rescue as their charity of choice. Students can now choose whether to redeem their hard-earned points for a personal reward or donate the equivalent to Unleashed. Each prize tier is given a dollar amount that counts towards a student's donation. Their name is then written on a leaf which is then hung on the Giving Tree in Horizon Academy's lobby.
"I've been giving to Unleashed with my points every week," current student Quinn Coleman says, "It makes me feel good to know I am helping the animals there."
At the end of the quarter, all of the leaves will be collected and a drawing will occur so that a few lucky students will earn an extra reward for donating their points. This exercise teaches students about the importance of giving back to organizations in the community. As a current student, Ella Colman says, "The prizes are nice, but I always feel better after donating my points. I know I am doing something right."
As of December 18th, 194 donations have been made to Unleashed Pet Rescue, totaling almost 48.50$